↖Panorama Stitcher, Download, Support
Panorama Stitcher help
How to take source images
Panorama Stitcher allows you to easily create beautiful panoramic images from your photos. Stitching is fully automatic and requires no tedious manual alignment. For better results keep in mind these simple rules while taking source images:
Take source photos by rotating your camera around a fixed point. Do not move from side to side while taking images.
Keep an overlap of at least 20-30% between neighbouring images.
All images should be taken with the same focal length.
Using Panorama Stitcher
Just drag and drop source images to the application window start stitching. Alternatively you can use File->Import menu to select source photos. Stitching will start immediately and may take a while, so you will be presented with a progress bar.
After the stitching is finished you will see a preview of your panorama and its initial crop rectangle: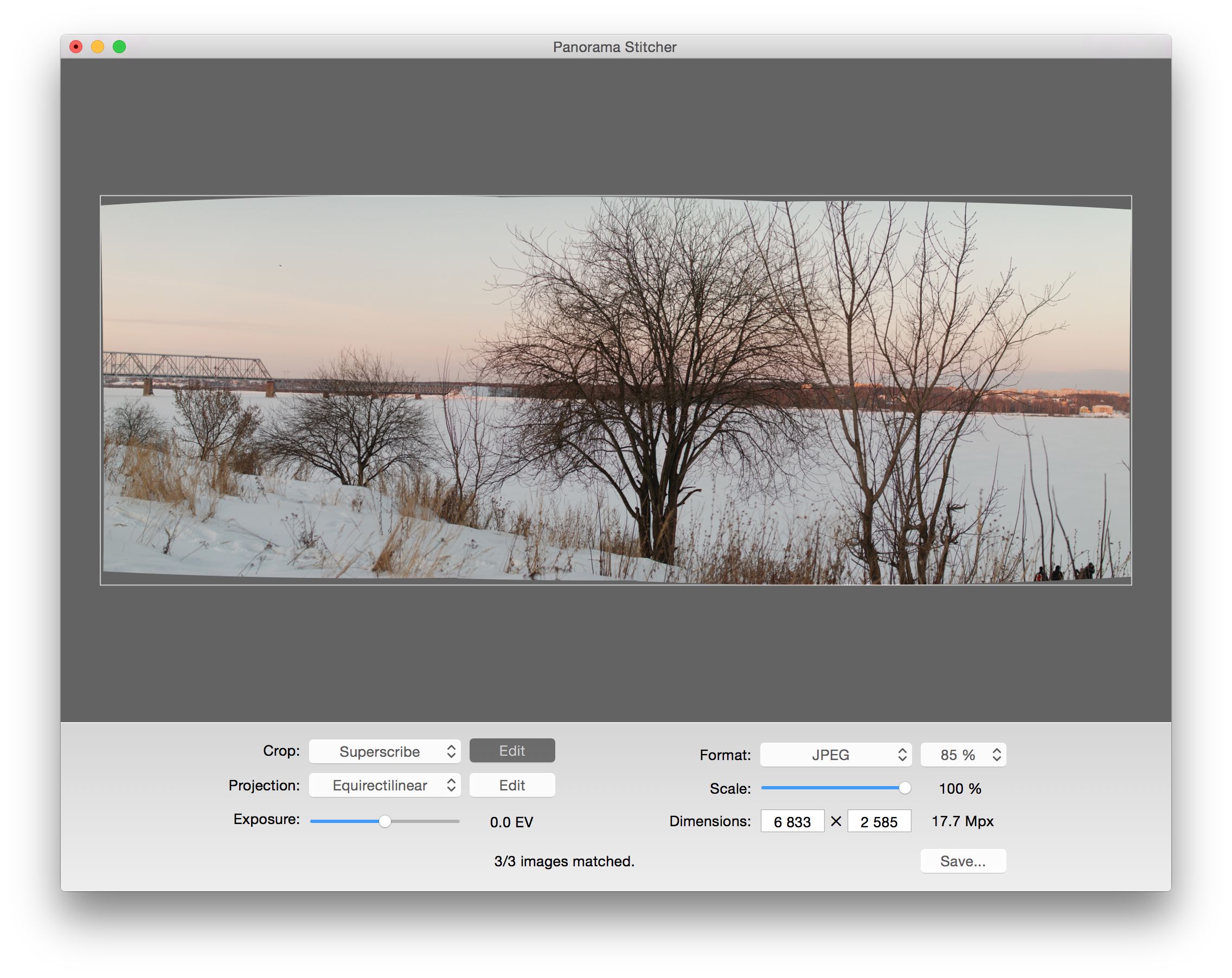 There are several controls for further panorama finetuning at the bottom of the window:
Crop. Superscribe option keeps crop rectangle outside of panorama edges, Inscribe keeps crop rectangle inside panorama edges. The crop rectangle can be manually modified by dragging one of its corners or sides. Manual option will be selected automatically in this case.
Projection. This popup button has two options Rectilinear and Equirectilinear. The rectilinear projection keeps straight lines in the world straight in the image, similar to a rectilinear lens. For very wide angle images the straight line preservation requirement may lead to heavy distortions in the image edges. This is where the equirectilinear projection is useful. It can bend some straight lines but removes edge distortions for very wide angle images. Initial setting is selected depending on the actual panorama field of view.
Edit buttons next to Crop/Projection popups. These buttons switch between crop editor and projection editor. Initially crop editor is active. Clicking Edit next to projection popup will bring projection editor:
Projection editor presents horizontal, vertical and rotational handles. Drag these handles to straighten the horizon, change full rotation panorama center etc. You will see an immediate preview of the changes in the projection editor.
Click Edit next to crop popup to return to the crop editor. Switching editors is also possible using View menu or keyboard shortcuts Cmd-1 and Cmd-2.
Exposure. As input images may have slightly varying exposures the stitching algorithm will bring them to some average exposure. If you prefer a different overall exposure set the exposure compensation value by dragging this slider.
Format. Select output format: JPEG, 16-bit TIFF or PNG (with transparency for panorama edges).
Scale. Set output scale less than 100% if you do not need full resolution output image.
Dimensions. Entering an exact number recalculate overall scale to match the desired dimension value.
Once you like the result click Save button and select destination folder for the panorama. Once again you will be presented with a progress bar for the export operation.
Source images for the above panorama are available for download.
See also: Camera settings for panorama stitching, How to avoid parallax error.
---